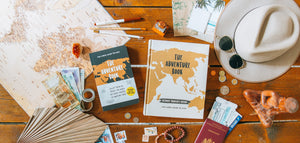 All 196 independent countries in the world have a spot in here for you to fill.
Your personal travel trophies all in one place! Showcase your highlights and remember your favorite travel memories.
Get yours
Discover fun ways to explore.
Expand your horizon with fun challenges and themes that will jolt your memory.
Learn more
Keep track of where you've been.
Color in maps of the entire world and its continents to see where you've been and where you still want to go to. 
Buy Now
⭐⭐⭐⭐⭐
It's my little collection of the travel memories I hold most dear.
⭐⭐⭐⭐⭐
The perfect option for me, since I never can keep up a daily journal.
Thank you for shopping small!
Hi! I'm Nicole, the creator of The Adventure Book and owner of this small business!
It's totally true that when you buy from a small business, we do a little happy dance to celebrate each and every one of you!
I hope you'll love filling your Adventure Book with cherished travel memories!